Expedited, Expert Used Oil Analysis
Prevent Catastrophic Failure
Utilizing the same technology applied by Formula 1 teams, catastrophic failure can be prevented by early detection. SPEEDiagnostix combines modern analytical techniques with expedited processing to deliver valuable data in a timely manner. The data provided by SPEEDiagnostix allows you to make decisions based on data, not speculation. In as soon as 3 days, you can know the health of your engine, transmission, gear box, power steering system or shock absorbers, and it is cost effective. For as little as $59.95 per sample, SPEEDiagnostix provides the ability to spot problems before they become catastrophes. How much does it cost to replace parts damaged by a catastrophic failure?
Should the engine run another race? Is the oil OK to run another track day? When should I change my oil? SPEEDiagnostix provides data that answers these questions and more, and in a time frame that makes the data valuable. Saving one engine or transmission pays for a lifetime of used oil analysis kits.
Our goal is to help our customers prevent catastrophic failures.
SPEEDiagnostix is here to help you get the longest life from your engines, transmissions, gears, power steering systems, shock absorbers and oils.
Expedited Processing = Know the health of the oil and vehicle quickly.
Wear Metal Analysis = Know which parts are wearing and at what rate they are wearing
Trend Analysis = See small problems before they become big problems
Application Specific Diagnostics = Analysis standards based on your application
"Being able to use Speediagnostix and access their long experience to guide and prove our oil testing has been well worth the minimal cost."
-Dean Baker, Head Engine Builder for JGRMX
Oil provides the cooling, cleaning, lubrication and fluid power for equipment such as engines, transmissions, shock absorbers and differentials. In essence, oil is the lifeblood of any lubricated equipment, and just like a doctor samples your blood to determine your health, used oil analysis can determine the health of the equipment and the health of the oil itself.
Used oil analysis provides critical insights into the health of engines, transmissions and differentials. This information is vital for car owners who race or track day their vehicles. Even if the car never sees a race track or auto cross course, used oil analysis can help prevent catastrophic failure in highly tuned street engines as well a classic cars. This is especially true in vehicles without a strong maintenance history. While traditional oil analysis services can provide data, these traditional kits can take weeks to produce results. That delay in time reduces the value of the information, and as a result, many people "take their chances" by operating high value equipment without taking used oil samples. SPEEDiagnostix solves that problem.
Click your application below to learn more about The Benefits of Analysis?
Why SPEEDiagnostix?
Employing expedited shipping and laboratory processing, SPEEDiagnostix delivers results in as quick as 3 business days. The rapid turnaround provided by SPEEDiagnostix allows evaluation of equipment and lubricants before the next event, race or track day. The expedited service can even provide insight during a pre-purchase inspection.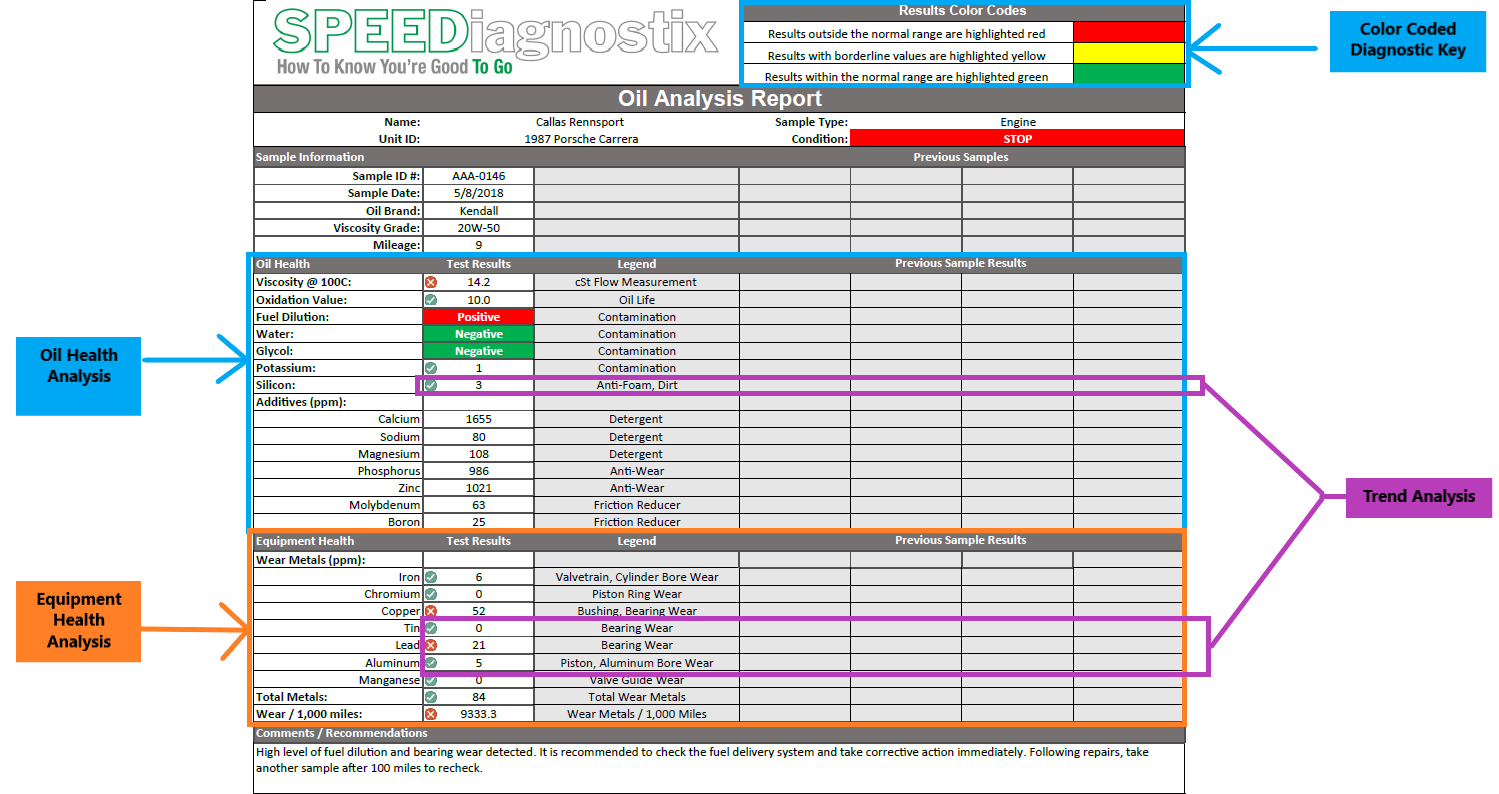 Each SPEEDiagnostix kits includes following tests
FTIR Analysis: Used to determine the health of the oil. FTIR provides a modern, accurate way to determine the remaining life of the oil. FTIR replaces traditional TBN tests and provides much better insight into the health of the oil.
Spectrometal Analysis: Used to determine type and quantity (in ppm) of wear, contaminants and additive metals in the oil. The report will detail, in parts per million, the wear metals, contaminants and additives in the sample.
Viscosity: The most important property of any lubricant, the viscosity test measures the resistance to flow of the lubricant at 100 degrees centigrade. This test can indicate improper oil, oil oxidation, or contamination with another fluid.
Standard 6 Day Drain Sample Kit
Double Standard 6 Day Drain Sample Kit
Expedited 3 Day Drain Sample Kit
Used Oil Analysis Shop 6-Pack Kit (Standard Turnaround)
Used Oil Analysis Starter Kit with Sampling Pump (Standard Turnaround)
Speediagnostix Kits Include
1. Unique ID carton
2. Unique ID sample bottle
3. Nitrile (non-latex) gloves
4. Instruction form
5. Pre-paid and addressed shipping box (USPS Priority Mail)
6. Pre-paid Laboratory processing
7. Spectrometal Analysis - Parts Per Million of wear metals, contaminants and additives in the sample
8. Kinematic Viscosity of the sample at 100 degrees centigrade
9. FTIR Analysis - Oxidation value of the sample
10. Detailed sample report that includes reference standards and calculated wear rates